The Kansas City Renaissance Festival welcomes patrons back to its jousting grounds in Bonner Springs each Saturday and Sunday, 10am-7pm, now until October 17th as well as Monday, October 11th, rain or shine! Test your strength, ride a flying dragon, honor the Royal Court, and encounter mermaids and fairies on a stroll throughout the village. Feast like a king or queen on turkey legs and craft beer. Get your hair braided, fortune read, and find unique gifts at over 100 shops. Forged in Fire champion Chris Farrell demonstrates his bladesmithing skills! There are 15 stages of continuous exciting entertainment, music, and comedy, including Full Combat Armored Jousting. There's so much to see and do with merriment to be had!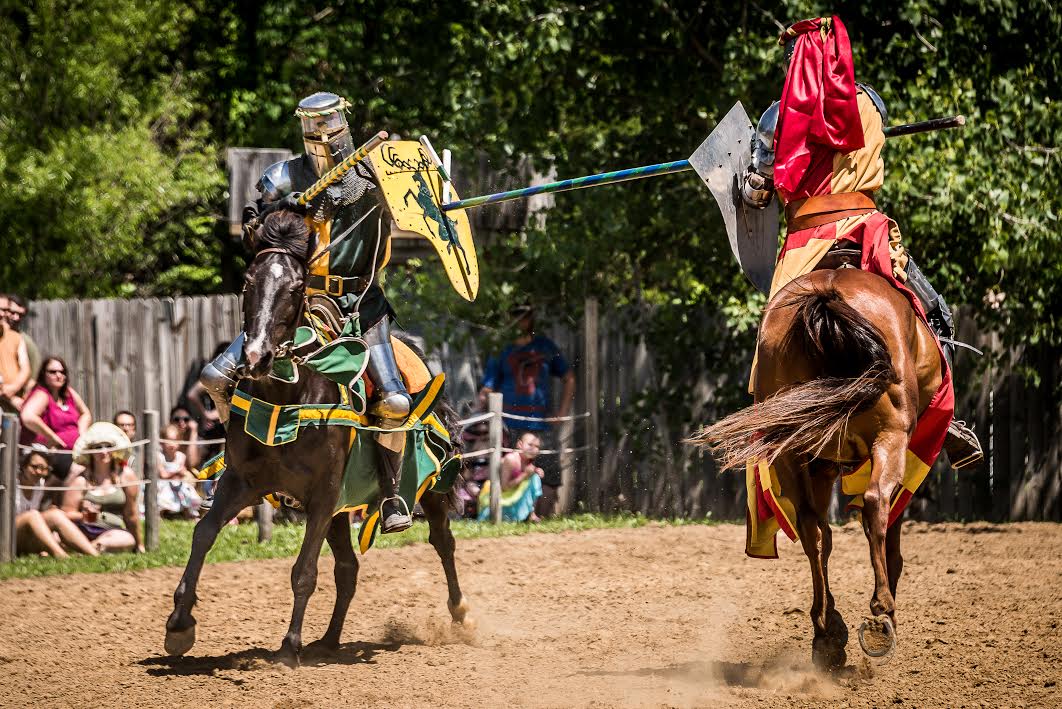 Over 50 free family activities are available with your admission ticket. Bring your whole family to the Festival to experience the magic! Young Lords and Ladies can make pirate hats and fairy wands, watch and participate in the children's knighting ceremony, cheer during the Grand March Parade, enjoy maypole dancing, meet and greet with entertainers, and visit the petting zoo! Besides the Children's Realm section, favorite kid-friendly destinations are the Enchanted Forest and the Mermaid Cove. The entertainment page provides details on street and stage acts, daily royal events, jousting matches, specialty and musical groups, and appearances by the Royal Court.
Every weekend has its own theme with special events and different Celebration of Cities admission savings based on where you live. The theme for September 25th and 26th is Shamrocks and Shenanigans. Listen to Irish music and show off your moves in the Shake Your Shammy dance contest. Remember to wear your best kilt! Also this weekend, buy 2 adult tickets and get 2 children's tickets free during Family Fun Weekend -- perfect for Mac Kid Northland subscribers! Plus, for this week's Celebration of Cities, show I.D. or mail from Kansas City, MO, Tonganoxie, KS, or Belton, MO for $3 off your ticket at the gate. There are also unique opportunities, such as Queen's Tea, Fairy Time Treats and various adult alcohol and food tastings, happening at an additional cost.
Festival Admission Prices are Adult Advance (buy online before coming to the Festival): $20.95, Child Advance: $12.50, Adult Gate (buy when you arrive): $23.95, Child Gate: $14.95, and Senior/Student Gate: $21.25. Children 4 and under are FREE. Advanced tickets are available online and at participating locations, and some local outlets feature discount coupons. Honor Roll students are rewarded for their academic success with a free ticket when they show their Honor Roll report cards at the box office. The Facebook page has additional info about the Festival and upcoming events and promotions.
TICKET GIVEAWAY: Enter to win a family 4-pack of tickets that can be used any day of the Festival by sending an email to lauras@macaronikid.com with the subject "Ren Fest" along with your first and last name, ages of your kids, and your zip code. Everyone who enters must be a subscriber to the MK Northland KC newsletter, which means you receive the FREE weekly newsletter in your email, so by entering the contest, you will be signed up for the newsletter if not already. There is only one entry for each email address, but if you suggest to a friend or family member that they should enter and that person lists your email address as a referral, you will receive an additional entry. There will be 4 winners receiving the 4-pack of tickets. The drawing happens at 9am on Wednesday, September 29th, so you have until then to enter, and the winners will be notified that day. Good luck!
Hope to see you at the Renaissance Festival!