One day a week, without fail, my family goes against societal norms and lives dangerously.
That's right.
Breakfast for dinner.
Breakfast for dinner is serious business in my house, and one of the few meals that no one has to be pestered to eat. We load up on scrambled eggs, bacon, sausage, pancakes, and french toast. Sometimes we add waffles, egg muffins, or even chipped beef into the mix. Sometimes we even make a breakfast pizza!
I always cook way more than we need, but that's not an accident.
It's breakfast for the week!
With just that one (fairly quick!) weeknight meal, we have on hand a week's worth of hearty, homemade breakfasts with no fuss. There's plenty to choose from, so the kids don't get bored and are less likely to choose a last-minute non-nutritious breakfast to tide them over until lunch.
We just pop leftovers into the microwave and breakfast is ready as soon as you hear that ding.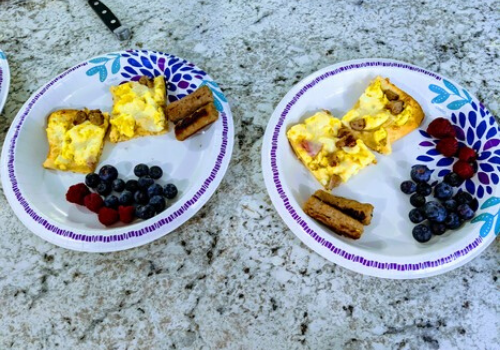 If I'm really feeling like a rockstar, those simple leftovers can be turned into a real hit. For instance, scrambled eggs and leftover breakfast meats can be transformed into a breakfast burrito in just a few extra minutes.
Want to try breakfast for dinner at your house? Try this breakfast pizza your kids will love:
Breakfast Pizza
Ingredients:
Canned pizza dough or crescent rolls
8 scrambled eggs
1/2 cup of a breakfast meats of choice (ham, bacon, sausage, and Canadian bacon all work well!)
1/2 cup of vegetables of choice (peppers, onions, mushrooms, and broccoli are all great choices!)
1 cup of shredded cheese of your choice
Directions:
Pre-heat the oven to 350 degrees.
Unroll the dough and pinch the seams together, if you're using the pastry in a can.
Spread scrambled eggs over the top, sprinkling evenly with meat, cheese, and veggies.
Cook until golden brown, about 20 minutes.
Try it topped with salsa or your favorite hot sauce!
Katherine Troy is the publisher of Macaroni Kid Binghamton, N.Y.